March 7, 2018
As the snow begins to melt and the sun begins to shine, it almost feels as if nothing could ruin this time of year. Sure, we're just weeks away from (hopefully) constant blue skies and warm weather, but there is one part of spring that can make for a rude awakening; humidity. When the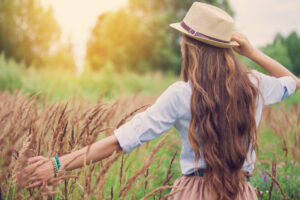 weather gets humid, hair gets frizzy. Are you one of those people who feels like they're doomed to a life of eternal frizz? Well, we're about to tell you that it's time to beat the humidity this spring. Believe it or not, no matter how many different products you've tried, it IS POSSIBLE to tame your hair and say goodbye to frizz for good!
TAME THE VOLUME
If you're one of the many who suffers from voluptuous hair, and as a result, frizzy hair, then get ready for this: After spending YEARS searching, we finally found the product to answer everyone's prayers. The Monat volume tame system restores ends while still providing a smooth shine and flexible finishing spray. What exactly is this magic system? It involves a shampoo, leave-in conditioner, and hairspray. Here's how they work:
Revive Shampoo
"A gentle volumizing cleanser that gives hair a touchably soft and youthful look."
Restore Leave-In Conditioner
"Designed to revive each strand and restore lost essential nutrients to the scalp."
Refinish Control Hairspray
"Infused with REJUVENIQE™, a strong yet flexible finishing spray that provides texture, volume, natural shine and long lasting touchable support. Humidity resistant and easy to brush through, leaving no sticky residue or build up even after re-spraying."

Ready to get the frizz-free hair you've been dreaming of? After you've said goodbye to frizz for good thanks to Monat, the secret to a phenomenal hair day is the perfect cut and color. Reach out to us today and book your appointment!