When Should I Schedule My Updo for Prom?

April 27, 2018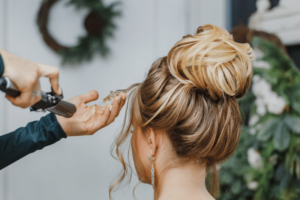 Prom season is upon us, which means it's time to break out the Pinterest page and find the perfect look to go with your dress. Prom takes months of preparation; between finding THAT dress, the PERFECT date, and a place to take pictures with all of your friends that has a scenery you wouldn't mind seeing in your photographs 20 years from now. So why should your hair take any less preparation? It's no coincidence that the busiest month of the year for updo appointments is May. Here's everything you need to know when scheduling your updo appointment for the most extravagant night in your high school history.
When to Book: Now!
Updos fill up fast! Make sure you book an appointment with your favorite stylist(at your favorite salon, of course), and pick a time that will still give you plenty of flexibility with your morning so that you're not rushing from one thing to the next.
Find A Picture of The Look You Want
This is CRUCIAL. Finding the perfect picture seems simple, but it's important to keep YOUR hair in mind when picking one: Is your hair thin or thick? Do you have a lot of hair? Is your hair long enough for the look you're going for? Make sure the look you want is also a look that your hair can handle!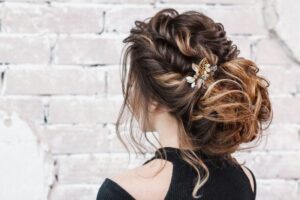 Keep Your Dress in Mind
Whether you're wearing a one-shoulder or a high neckline, make sure your hairstyle will complement the style of your dress. For example, if your dress is off-the-shoulder on your right side, you should either wear your hair down completely or up and to the left to create balance. Is your dress fun and colorful? Remember that less is more; try balancing bright and cheery colors with a  simple and sleek hairstyle.
Keeping Your Updo 'Up' All Night
Once pictures are done and you hit the dancefloor, you'll see a bobby pin pop out of someone's hair every three seconds, and next thing you know everyone's hair has completely fallen out. Make sure you add extra bobby pins after pictures and keep a can of hairspray in your clutch; your hair will last all night!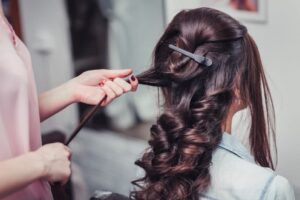 Ready to book your appointment for the big night? Reach out today to get your timeslot before they're gone!